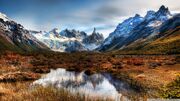 Argentina i/ˌɑrdʒənˈtiːnə/, officially the Argentine Republic (Spanish: República Argentina [reˈpuβlika aɾxenˈtina]) is a federal republic located in southeastern South America. Covering most of the Southern Cone, it is bordered by Bolivia and Paraguay to the north; Brazil to the northeast; Uruguay and the South Atlantic Ocean to the east; Chile to the west and the Drake Passage to the south.

With a mainland area of 2,780,400 km2 (1,073,500 sq mi), Argentina is the eighth-largest country in the world, the second largest in Latin America and the largest Spanish-speaking nation. Argentina claims sovereignty over part of Antarctica, the Falkland Islands (Spanish: Islas Malvinas), South Georgia and the South Sandwich Islands.
Community content is available under
CC-BY-SA
unless otherwise noted.