Sea Monsters: Prehistoric Predators of the Deep

Writer(s)

Publisher

BBC Books (UK)
Dorling Kindersley (USA)

Release Date

16 October 2003 (UK)
2 February 2004 (USA)

Format

Hardback Book, 168 Pages

Price

£17.99

ISBN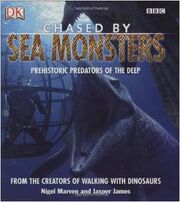 Sea Monsters: Prehistoric Predators of the Deep is the companion book to the Sea Monsters TV series. This exciting book depicts Nigel's adventures in the 7 deadliest seas of all times, from the mighty pliosaur Liopleurodon to the sea scorpion Megalograptus. In the USA it was titled Chased By Sea Monsters: Prehistoric Predators of the Deep.
Introduction
Edit
The biological big bang
The first monsters

The life and times of planet Earth

Age of fishes
Return to the water
Hell's aquarium
End of an era
Murderous mammals
The Ordovician: 450 MYA
Edit
No place for humans

The Ordovician at a glance
Hell on earth

Nasty nippers
Sex on the beach
Orthocones - a deep-water menace

Dos and don'ts of Ordovician diving
Anatomy of a Shell

Blind terror
The Devonian: 360 MYA
Edit
Age of fishes
Devonian dangers

Dos and don'ts of Devonian diving
Fish out of water
Living fossils

First sharks
The original 'Jaws'
The Triassic: 230 MYA
Edit
Out of the blue
Dragons at sea

The genesis of the dinosaurs

Sticking its neck out
Running the gauntlet
The Jurassic: 155 MYA
Edit
Deadly paradise

The Jurassic at a glance
Ammonites

Liopleurodon - the biggest predator ever?

Dos and don'ts of Jurassic diving
Too close for comfort
Using a smell suit

Survival
The Cretaceous: 75 MYA
Edit
Don't go in the water!

The Cretaceous at a glance
Hens' teeth

Shallow death
Where angels fear to swim

Dos and don'ts of Cretaceous diving
The big blunder

The main monster
The Eocene: 36 MYA
Edit
The leviathan

The Eocene at a glance
The whale that lost its scales

Hunger pangs
In for the kill

Sound in an underwater world
How scary was Basilosaurus?
The Pliocene: 4 MYA
Edit
Giant sharks
Starting small

Fossilized teeth
What's in a name?
Swimming with sharks

The whale killer
Looking death in the face

Dos and don'ts of diving with Megalodon
The extinction of Megalodon
Acknowledgements
Edit
Picture credits
Edit
Character boxes
Edit
External links
Edit
Community content is available under
CC-BY-SA
unless otherwise noted.