Walking with Dinosaurs pilot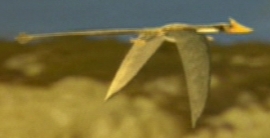 Original airdate
never aired

Chronological information

Previous episode
N/A
Following episode
New Blood
The Walking with Dinosaurs pilot is a six minute[1] film created by Tim Haines in 1996.[2] The film (as far as people know) depicts prehistoric fauna from late Jurassic England, akin to Cruel Sea.
The pilot film depicts life during the late Jurassic period in England, when it was divided into a set of small islands due to an increase in sea level.[3] A small flock of pterosaurs fly over the British coastline before descending to feeding. Meanwhile, on land, a female Eustreptospondylus is prowling through the dense vegetation before coming upon a large herd of Cetiosaurus, browsing on the tree tops.
In the waters, a Liopleurodon is hovering near the surface of the water. However, later the animal is washed ashore and stranded on a beach.[1]
Creatures featured
Edit
Production
Edit
According to Trilogy of Life, a featurette on the Walking with Monsters DVD, Haines asked Mike Milne from Framestore CFC to help him create two hours of "Jurassic Park quality, computer-animated dinosaurs for a television programme with a television budget". He initially declined but soon agreed to help. Haines created the pilot episode and showed to the BBC, who upon viewing, decided to initiate a fundraising campaign for the series that would be Walking with Dinosaurs.[1]
The effects in the pilot were achieved using computer animation as well as animatronics and prosthetics, as exemplified by the behind-the-scenes footage of the beached Liopleurodon. Other methods were also used, such as the "ball-and-stick" technique commonly used by the Walking with... production crew. The pilot was filmed in Cyprus.[1][2]
Behind the scenes
Edit
Notes and references
Edit
↑ 1.0 1.1 1.2 1.3 Trilogy of Life, Walking with Monsters DVD (2005)
↑ 2.0 2.1 The Making of... - Walking with Dinosaurs - The Arena Spectacular: www.dinosaurlive.com [Accessed 23rd May 2015]
↑ Cruel Sea, Walking with Dinosaurs (1999)
Community content is available under
CC-BY-SA
unless otherwise noted.